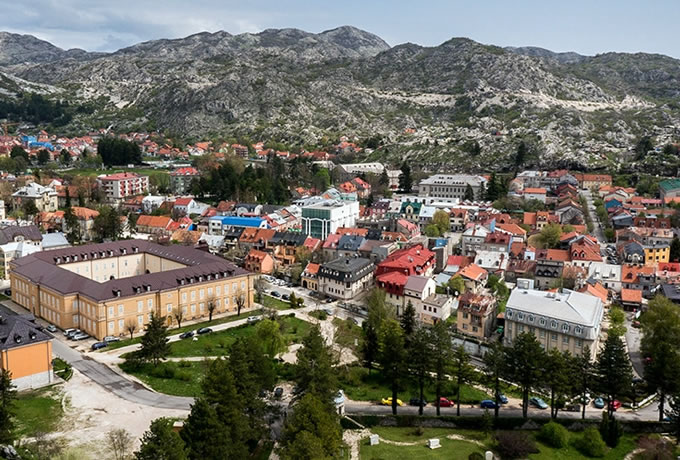 Cetinje, the capital
1482. Ivan Crnojević, Lord Zete, under pressure from the Turks, moved the capital of his small country from Obod to Cetinjska polja and there he erected the first court and then the monastery. The city got its name by the Cetina River, which protruded the field in those ancient times. 1499 Zeta fell into the hands of the Turks and from that moment Cetinje became the center of the only free space in the Balkans, and the surrounding areas of the core of freedom and independence, a symbol of resistance to all the oppressed Balkan peoples. Historical records say that later Cetinje was exposed to many hits and temptations. The most significant development and progress of the town was not until the arrival of the power of the dynasty Petrović, ruler of Danilo Šćepćević Petrović, when the center of events and decision-making moved to a small capital. Further development of the town continues in the time of Vladik: Sava and Vasilija Petrović, Petar Cetinjski, Petar II Petrović Njegos, Knjac Danil Petrović and Kralj Nikole I Petrović, and its culmination is experienced in the period of international recognition of Montenegro in 1878 until the beginning of World War II war.
Then the city got all the features of a modern European capital with castles, theater, hotel and many embassies such as  England, Russia, France, Bulgaria, Italy, Belgium, which still boast this beautiful place today. Today, Cetinje is an important historical and artistic intersection. With its 590m altitude, located beneath the summit of Lovcen, this city is an oasis of peace and quiet, natural beauty and abundance of fresh and fresh air. Cetinje is about twenty minutes drive from Budva, just as much from the capital Podgorica or about forty minutes drive from Kotor through the famous Njeguša. After visiting the city's sights: Cetinje Monastery, Church of Ćipura, Biljard, Orlov Krš, Kralja Nikola Castle, Government House, Walking on Balsać Street and Katunska Street, you reach the end of old Mlin, then make a stop for Yelow Moona for refreshment. If you are delighted with what you saw in the Priest, you can spend the night at Cetinski Grand Hotel or at Ivan's Choices. During the tour of Cetinje and the underwater part of Montenegro, do not forget to try Njeguške specijalitete: cheese, ham and famous Crmnice wine.