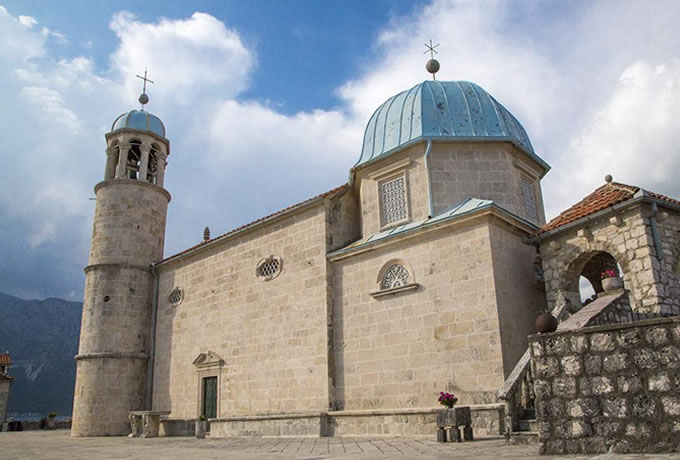 Gospel Of Screw - Used Lepotics
Our Lady of Rock is the second of two islands in front of Perast, about 115 m away from the island of St. Đorđe in the northwest direction. The stone plateau in the middle of the sea with a sailboat is the result of many years of effort by the generations of seafarers to enter here, in the heart of the Bokokotors bay, the testimony of their Christian faith and culture. According to the legend, the sailors found the icon of the Virgin with the child on the rock in the middle of the sea on 14 July 1452. Since then, the tradition has been that seafarers, upon returning from a successful sailing, are laying stones at the shore of the Lady of Skrpjela. The island was artificially constructed by the constant rubbing of rocks and the sinking of old ships around the cliff that existed there. In the middle of the 15th century, a small chapel was erected on the island and the island was expanded to provide a baroque church with a 11m high dome in the Byzantine style in the 17th century.
The church was painted by Trio Kokolli, the famous Persian painter of the seventeenth century, and the icon of Our Lady of Sculpture, which is in the church for centuries, was made in 1452 by Lovro Dobričević. Visitors can also see the unusual tapis in the church, whose creation is linked to a sad love story. Namely, tapiseria is the 25 year old rule of Jacinta Kunić-Miljovic waiting for the gentleman to return from the sea, and she has touched her parts of her hair, golden in youth and silver in old age. Our Lady of Sculpture is a unique example not only of its origins and of its development, but also of an interesting architectural complex that attests to all the changes related to the history of Perast. Interestingly, every year on June 22, the Chocolates continue their tradition of rebuilding the foundations of the island, and the boats get the stone and put it in the depths. This event is called "fascinada" and the aim is to fix the foundations of the island so that Our Lady of Sculpture will continue to decorate the view from Perast.